Pro Shop
WhatsNew:
CurrentNews:

As a Golfweek Amateur Tour Member, you will receive membership into a -USGA compliant club through USHandicap.com and issued an official USGA index.
Within 45 days of joining the tour and filling out the 2020 registration, each member will receive an email from USHandicap with instructions on how to sign into your account. You will not be able to access your Silver membership until you receive the confirmation email. Nothing will be mailed, everything will be done via email address.
See FAQ's here for more information.
Join The Golfweek Amateur Tour and get a free subscription to GOLFWEEK Magazine!
Every member of the Golfweek Amateur Tour receives a free one year subscription to GOLFWEEK Magazine. That includes both digital and print editions.
To start your subscription, you must fill out the tour application when paying your membership fees. Click here to join the Tour. Please allow 4-6 weeks for for your magazine to arrive.
If you are already a member and have filled out the registration, you can go online here and set up a digital account with the email you signed up with on our website. Or you can use the Golfweek magazine app from iTunes.
All Merchandise
includes the Golfweek Amateur Tour Logo

25TH Anniversary Commemorative Coin and Ball Marker
Price: $10

Marker Coin with removable ball marker

Coin Size: 1.75"

Ball Marker Size: 1"

25TH Anniversary Microfiber Cart Towel
Price: $19

Black with gray border

Super absorbent waffle-texture holds 400% of its weight in water and is non-abrasive and virtually lint free, safe enough for cleaning precision eyewear. Button-hole loop with ring. 16" x 24"
Rectangular Key Tag
Price: $8
SALE $5




Hat Clip, Divot tool and Tee Package
Price: $25
SALE $16




Tee Package with 6 tees, I hat clip with ball marker and divot tool
Scorecard Holder
Price: $20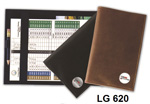 ONLY AVAILABLE IN BROWN-- SUPPLIES ARE LIMITED
Leatherette Zippered Valuables Pouch
Price: $25

Fully padded zippered black valuables pouch with zippered interior packet and clip on attachment.

Size 8.5" x 6"x 1.25"

Leather Money Clip
Price: $25
Executive Attache
Price: $39

100% nylon dobby double sided attache with piping on front flap with clip closure, file folder area, zipper pocket, business card and pen slots, rubber handle, sliding padded removable strap, hook & loop closure back flap with padded area for laptop and two zipper pockets.

SOLD OUT

GOLFWEEK AMATEUR LOGO ON FRONT FLAP

Size 12.5"H x 17"W x 4.5"D

Executive Tablet Folio
Price: $25

SOLD OUT

100% nylon dobby tablet portfolio with zip closure, tricot lining elastic straps to securely hold tablet, outer storage pocket & viewing stand.

GOLFWEEK AMATEUR LOGO ON FRONT

Size 8.5"H x 11"W
EXCITING NEW PRODUCT COMING SOON!
Price: $

ACTION TRAVEL KIT BAG
Price: $18

100% nylon dobby color blocked travel kit with contrast piping, zip closure and side handle

Size 12.5"H x 8"W x 7.5"D
---
---
All products are embroidered or printed with our Golfweek Amateur Tour Logo.