Minneapolis/St. Paul, MN
WhatsNew: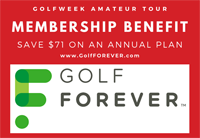 To all Golfweek Amateur Tour Members,
On behalf of the entire Golfweek organization, I want to thank you for your membership of the Golfweek Amateur Tour. We are incredibly proud of our relationship with what we feel is the best option for organized amateur competition for folks like you and me.
I am writing to inform you of some changes to our magazine frequency and format for 2021. Our plan is to publish four issues in 2021 including our annual Golfweek's Best in April and Ultimate Guide in December. In addition to these two issues, we will publish a new issue called Get Equipped in February that will highlight everything new in the game for 2021 including equipment, gear, places to visit and more. The second new issue is titled Golf Life in July and will feature in-depth stories and interviews with the movers, shakers and personalities that drive the business and sport of golf. We are excited about the new schedule and plan to bring the same style of expert, in-depth journalism that you expect from Golfweek..
I hope that you also enjoying www.golfweek.usatoday.com as well as our weekly digital newsletter products including: Monday Rewind, Get Equipped, Get Primed, Golf Life and Get Better. You can sign up for these here.
Thank you again for being a Golfweek Amateur Tour Member.
Sincerely,
Patrick Leahy
VP of Revenue - USA TODAY Golf
Publisher – Golfweek
CurrentNews:

As a Golfweek Amateur Tour Member, you will receive membership into a -USGA compliant club through USHandicap.com and issued an official USGA index.
Within 45 days of joining the tour and filling out the 2022 registration, each member will receive an email from USHandicap with instructions on how to sign into your account. You will not be able to access your Silver membership until you receive the confirmation email. Nothing will be mailed, everything will be done via email address.
See FAQ's here for more information.
Sign up today for Golfweek's FREE newletters reporting on the latest and greatest happenings in the game of golf.
Covid-19 Changes and info


An Update from us on COVID-19




Minneapolis St. Paul Golfweek Amateur Tour

Is here for Minnesota Golfers.




We hope that all of your families and loved ones are in good health and good spirits in this uncertain time.




This newsletter is to answer some of those questions I know we all have. Things are changing by the day and we will continue to send out information as it becomes available. We are working hard to ensure that we can put on Golf events that will be able to ensure a safe environment to all of our commpetitors.




With that said there is always some risk involved we understand that some of us will choose to sit this season out and thats ok. For the rest of you who are ready for GOLF SO ARE WE!!!

YES There Will Be Golf Tournaments this Summer.

We are working with all of our tour courses to find out exactly how we can host events Safely. At this time safety of our tour players is our Main Concern. We are watching whats happening and we will make decisions with the help of our elected officials and scientists in order to maintain the highest level of safety we can!

First Event.

We have pushed back the first couple of events on our schedule to give us a little more time to plan out how events will be handled from sign up to scorecards trophies and payouts.

Tournament Schedule.

A finished revised schedule will be out on May 1st. An email of the revised schedule will be sent out to everyone in our mailing list as well.

Golf Courses.

We are talking with each course to determine how they plan to handle traffic and tee times practice ranges, putting greens and golf carts for each of our events.

Riding or walking.

There may be some courses that require players walk instead of ride or limit riders per cart and so on, we ask that you have patients with this. There will be emails coming out detailing each courses specific rules and regulations for each event. I will have the course specific info out at least a week before the sign up deadline for each event.

Skins games $ .

As of right now it looks like everything will be handled through paypal. We are working to update our website to allow players to sign up and pay for the skins games while paying for tournament entry.

Event winnings/Prize $.

We are looking into the legality of paying out via paypal. If this is not viable winners will receive their trophies and Visa gift cards via Fedex , UPS or U.S. Mail.

Please email any questions

Minneapolis@amateurgolftour.net

We are experiencing a high volume of emails so please be patient if it takes a

day or so for a response Thank you so much!