Nashville, TN
WhatsNew: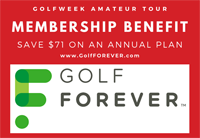 To all Golfweek Amateur Tour Members,
On behalf of the entire Golfweek organization, I want to thank you for your membership of the Golfweek Amateur Tour. We are incredibly proud of our relationship with what we feel is the best option for organized amateur competition for folks like you and me.
I am writing to inform you of some changes to our magazine frequency and format for 2021. Our plan is to publish four issues in 2021 including our annual Golfweek's Best in April and Ultimate Guide in December. In addition to these two issues, we will publish a new issue called Get Equipped in February that will highlight everything new in the game for 2021 including equipment, gear, places to visit and more. The second new issue is titled Golf Life in July and will feature in-depth stories and interviews with the movers, shakers and personalities that drive the business and sport of golf. We are excited about the new schedule and plan to bring the same style of expert, in-depth journalism that you expect from Golfweek..
I hope that you also enjoying www.golfweek.usatoday.com as well as our weekly digital newsletter products including: Monday Rewind, Get Equipped, Get Primed, Golf Life and Get Better. You can sign up for these here.
Thank you again for being a Golfweek Amateur Tour Member.
Sincerely,
Patrick Leahy
VP of Revenue - USA TODAY Golf
Publisher – Golfweek
CurrentNews:

As a Golfweek Amateur Tour Member, you will receive membership into a -USGA compliant club through USHandicap.com and issued an official USGA index.
Within 45 days of joining the tour and filling out the 2022 registration, each member will receive an email from USHandicap with instructions on how to sign into your account. You will not be able to access your Silver membership until you receive the confirmation email. Nothing will be mailed, everything will be done via email address.
See FAQ's here for more information.
Sign up today for Golfweek's FREE newletters reporting on the latest and greatest happenings in the game of golf.
How Our Tournaments Work

When you sign up for the Nashville Golfweek Amateur Tour, we will place you into a flight based on your current USGA Index or by making a determination based on your average scores. During the tournaments, you will compete against other players within your flight in a true stroke play event. You will compete for VISA Gifts Cards and also an etched crystal trophy for the 1st place winner in each flight.

Prize Pay-Outs are based on the amount of players in each flight. A Prize Fee is already in your Tournament Entry. View the Nashville 2022 Prize Matrix on the home page.

We also have optional cash games at each event. These include Skins Games based on Flight, Super Skins which includes all flights together, CTPs (Closest to the Pins), Points Game, and 50/50 Raffle.

Then, based on what place you took in that tournament, you will be awarded season points no matter what place you finished for the event. At the end of the season the Season Long Points Winner for each flight will be awarded a special Championship Jacket and the Top-3 from Each Flight will receive a VISA Gift Card.

Listed below are the flight assignments…

Championship Flight: 0 to 3.9 Handicap

A Flight: 4.0 to 8.9 Handicap

B Flight: 9.0 to 13.9 Handicap

C Flight: 14.0 to 18.9 Handicap

D Flight: 19.0 and Higher Handicap

TOURNAMENT CHECK IN

Sign in at tournaments with either the Tour Director or at the sign-in table. We require that you check in at least 20 minutes before your assigned tee time or pairing. Failure to do so may result in a 2 stroke penalty.

The AGT local Tour Director will provide the official score card and offer entrance to the skins pool at the Check In Table. Check the official score card to verify that your flight is correct. Since flights are assigned via handicaps, it is important that we have your handicap on file correctly.

Next, find your cart with your name on the cart card and stow your gear. Allow sufficient time to perform your normal warm-up routine. For shotgun starts, your tee time is the time you must be in your cart in the marshaling area to hear the local course brief before driving to your starting hole.

TOURNAMENT TEE BOXES

All flights will be from a set of tees customized at each tournament. The following guidelines will be used for determining length:

Championship Flight will play at 6700 yards and up - optimally 6800 yards.

"A" Flight will play at 6500-6800 yards - optimally 6600 yards.

"B" flight will play at 6400-6600 yards - optimally 6400 yards.

"C" flight will play at 6200-6500 yards - optimally 6200 yards.

"D" Flight will play 6000-6300 yards - optimally 6000 yards.

Maintaining the appropriate course length is a hallmark of the Nashville Golfweek Amateur Tour. We attempt to hit the optimal distances in every tournament. It ensures fair play across all our flights, levels out handicaps, cuts down on sandbagging, evens out CTP contests, and allows men, women and seniors to play together fairly.

Women will play from a tee box of the closest comparable slope rating to that of the men in the same flight. In the absence of a suitable tee box the local tour director will choose or designate a tee box or tee box combination the equivalent of 85-90% of the men's distance in the same flight.

Typically the Women's Tees are set at -

Championship Flight women will play at 6000 yards

"A" Flight will play at 5800 yards

"B" flight will play at 5600 yards

"C" flight will play at 5400 yards

"D" Flight will play 5200 yards

As a compassion the Senior Tees are set at -

Championship Flight women will play at 6400 yards

"A" Flight will play at 6200 yards

"B" flight will play at 6000 yards

"C" flight will play at 5800 yards

"D" Flight will play 5600 yards

Note: These also will be the typical yardages that will be used for the National Tour Championship

ON THE FIRST TEE

For all events, you will be provided an official score card/cards. As soon as you get it, BEFORE players tee off, check your scorecard to verify all the player information is correct. In the event that a piece of information is incorrect, clear it up with the Tour Director. If he is not immediately available, please advise your group and mark the problem on the scorecard so that adjustments can be made at the turn or at the end of the round (before you sign your card).

Do not delay play to fix information that does not affect the conduct of your round (e.g. an incorrect handicap or wrong tee box is not a reason to hold up play if your group knows the correct tee box for your flight. However, information you cannot resolve that would cause you to play from the wrong tee box needs to be fixed before you start.)

It is recommended that every player in the group keep their own score on a course scorecard. But one player in each group is required to keep the OFFICIAL hard copy scorecard, and a different player in the group IS REQUIRED to post scores to LiveScore during the round. It is recommended that at the turn or after 9 holes everyone checks their scores to make sure they match the official scorecard and that LiveScore is accurate. After the round check and double check scorecards to LiveScore and to your individual scorecards. Fix any discrepancies before EVERYONE signs the official scorecard and it is turned in. The official scorecard is final and takes precedence over LiveScore.

The Tour Director or starter will provide local course rules. Local rules take precedence over tour or USGA rules.

Each player should identify his ball with a distinctive marking and show it to his playing partners. You must be able to positively identify that the ball you found is not one of the same brand and number that was lost by another player. If you cannot positively identify the ball as yours, then USGA rules deem your ball to be lost.

Tee off and have fun!