St. Louis, MO
WhatsNew: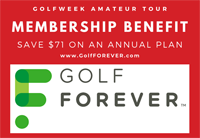 To all Golfweek Amateur Tour Members,
On behalf of the entire Golfweek organization, I want to thank you for your membership of the Golfweek Amateur Tour. We are incredibly proud of our relationship with what we feel is the best option for organized amateur competition for folks like you and me.
I am writing to inform you of some changes to our magazine frequency and format for 2021. Our plan is to publish four issues in 2021 including our annual Golfweek's Best in April and Ultimate Guide in December. In addition to these two issues, we will publish a new issue called Get Equipped in February that will highlight everything new in the game for 2021 including equipment, gear, places to visit and more. The second new issue is titled Golf Life in July and will feature in-depth stories and interviews with the movers, shakers and personalities that drive the business and sport of golf. We are excited about the new schedule and plan to bring the same style of expert, in-depth journalism that you expect from Golfweek..
I hope that you also enjoying www.golfweek.usatoday.com as well as our weekly digital newsletter products including: Monday Rewind, Get Equipped, Get Primed, Golf Life and Get Better. You can sign up for these here.
Thank you again for being a Golfweek Amateur Tour Member.
Sincerely,
Patrick Leahy
VP of Revenue - USA TODAY Golf
Publisher – Golfweek
CurrentNews:

As a Golfweek Amateur Tour Member, you will receive membership into a -USGA compliant club through USHandicap.com and issued an official USGA index.
Within 45 days of joining the tour and filling out the 2022 registration, each member will receive an email from USHandicap with instructions on how to sign into your account. You will not be able to access your Silver membership until you receive the confirmation email. Nothing will be mailed, everything will be done via email address.
See FAQ's here for more information.
Sign up today for Golfweek's FREE newletters reporting on the latest and greatest happenings in the game of golf.
Tunica National FOURBALL Tournament Details

FourBall Tournament Information

*** Lots of important information to follow, please read carefully ***

Saturday March 25th - 12:30pm SHOTGUN

Saturday March 26th - 8:30am SHOTGUN

Registration opens at 11:00 am - players check in and get scorecards, local rules and receive final instructions for the day. All players are expected to be checked in no later than 30 minutes before their tee time to receive last minute updates, tournament rules, and additional information. All players should be in their carts no later than 12:15pm for announcements.

Pace of Play

In 2017, we will adhere to a strict pace of play policy. All players are to be respectful and work together to maintain a good pace of play. Please review the PACE OF PLAY POLICY. It will be strictly enforced with no execeptions.

Post Tournament

After your round, each player should present their scorecard to the scoring table. Each player is responsible for his/her score. Once your scorecard is submitted it is considered final and binding.

Tournament Rules

USGA Rules are in effect. Please refer to the USGA Rule Book

Local Rules are in effect. Please refer to the Local Rules

All players are expected to have a working knowledge of the USGA rules -- if you don't know -- ask!

Tournament Information

Tee Boxes:

Men

Champ & A Flight - Gold Tees

B Flight - Blue Tees

C & D Flight - Green Tees

Ladies

White Tees

Tournament Pairings: Tunica National FOURBALL Pairings (select Tunica National from DropDown Menu)

Visa Gift Card Prize Pool:

Champ Flight - 1st Place $225 (each player) & 2nd Place $50 (each player)

A Flight - 1st Place $325 (each player) & 2nd Place $50 (each player)

B Flight - 1st Place $275 (each player) & 2nd Place $50 (each player)

C Flight - 1st Place $250 (each player) & 2nd Place $50 (each player)

Additional Games:

$20 Skins Game EACH DAY - $40 total

$5 Super Skins EACH DAY
$15 Flighted Skins EACH DAY

Net Competition Handicap/Index Rules

The event will be 18 holes of STROKE play, scoring the Team's better ball (NET) on each hole. Each player would take his/her strokes (adjusted) where they fall on the card. The TEAM with the best finishing team in the NET competition will be crowned champion.

Course handicaps were determined using current GWAT Index and applying it against the slope/rating of the tee box to be played. Then using the determined course handicap, each handicap was adjusted 80% as per USGA rules for fair team play.

Practice Round Tee Sheet

Please click this link: Tunica National Friday Practice Rounds to see your practice round tee time. Please check in with Matt or Joe before teeing off.