Tampa, FL
WhatsNew: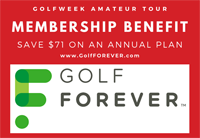 To all Golfweek Amateur Tour Members,
On behalf of the entire Golfweek organization, I want to thank you for your membership of the Golfweek Amateur Tour. We are incredibly proud of our relationship with what we feel is the best option for organized amateur competition for folks like you and me.
I am writing to inform you of some changes to our magazine frequency and format for 2021. Our plan is to publish four issues in 2021 including our annual Golfweek's Best in April and Ultimate Guide in December. In addition to these two issues, we will publish a new issue called Get Equipped in February that will highlight everything new in the game for 2021 including equipment, gear, places to visit and more. The second new issue is titled Golf Life in July and will feature in-depth stories and interviews with the movers, shakers and personalities that drive the business and sport of golf. We are excited about the new schedule and plan to bring the same style of expert, in-depth journalism that you expect from Golfweek..
I hope that you also enjoying www.golfweek.usatoday.com as well as our weekly digital newsletter products including: Monday Rewind, Get Equipped, Get Primed, Golf Life and Get Better. You can sign up for these here.
Thank you again for being a Golfweek Amateur Tour Member.
Sincerely,
Patrick Leahy
VP of Revenue - USA TODAY Golf
Publisher – Golfweek
CurrentNews:

As a Golfweek Amateur Tour Member, you will receive membership into a -USGA compliant club through USHandicap.com and issued an official USGA index.
Within 45 days of joining the tour and filling out the 2022 registration, each member will receive an email from USHandicap with instructions on how to sign into your account. You will not be able to access your Silver membership until you receive the confirmation email. Nothing will be mailed, everything will be done via email address.
See FAQ's here for more information.
Sign up today for Golfweek's FREE newletters reporting on the latest and greatest happenings in the game of golf.
Click here for a printable schedule (Current season only)

---

Tournaments with blue text are double point events.

Green indicate regional tournaments

---

1/8/2022

Website

Lansbrook Golf Club

727-784-7333

Register / Who's Playing?

8:30 AM

Straight Tee

Palm Harbor, FL

$95.00

Results

---

1/22/2022

Website

Big Cypress Golf & CC

863-859-6871

Register / Who's Playing?

11:30 AM

Shotgun

Lakeland, FL

$90.00

Results

---

2/19/2022

Website

Brooksville CC

352-796-8236

Register / Who's Playing?

8:30 AM

Straight Tee

Brooksville, FL

$90.00

Results

---

3/12/2022

Website

The Eagles GC (The Lakes)

813-920-6681

Register / Who's Playing?

8:30 AM

Straight Tee

Odessa, FL

$95.00

Results

---

4/9/2022

Website

Innisbrook Resort (Island)

727-942-5220

Register /Who's Playing?

8:00 AM

Shotgun

Tampa, FL (Hosted by Tampa, FL)

$425.00

Results

---

4/10/2022

Website

Innisbrook Resort (Copperhead)

727-942-5220

8:00 AM

Straight Tee

Tampa, FL (Hosted by Tampa, FL)

$0.00

Results

---

5/21/2022

Website

Lake Jovita Golf & CC (North)

352-588-9200

Register /Who's Playing?

8:30 AM

Shotgun

Dade City, FL

$190.00

Results

---

5/22/2022

Website

Lake Jovita Golf & CC (South)

352-588-9200

8:30 AM

Shotgun

Dade City, FL

$0.00

Results

---

6/4/2022

Website

Bardmoor GC

727-392-1234

Register / Who's Playing?

8:00 AM

Shotgun

Largo, FL

$95.00

Results

---

6/18/2022

Website

Legacy GC

941-907-7067

Register / Who's Playing?

8:30 AM

Shotgun

Bradenton, FL

$100.00

Results

---