Tidewater, VA
WhatsNew: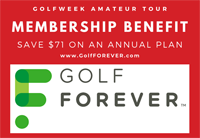 To all Golfweek Amateur Tour Members,
On behalf of the entire Golfweek organization, I want to thank you for your membership of the Golfweek Amateur Tour. We are incredibly proud of our relationship with what we feel is the best option for organized amateur competition for folks like you and me.
I am writing to inform you of some changes to our magazine frequency and format for 2021. Our plan is to publish four issues in 2021 including our annual Golfweek's Best in April and Ultimate Guide in December. In addition to these two issues, we will publish a new issue called Get Equipped in February that will highlight everything new in the game for 2021 including equipment, gear, places to visit and more. The second new issue is titled Golf Life in July and will feature in-depth stories and interviews with the movers, shakers and personalities that drive the business and sport of golf. We are excited about the new schedule and plan to bring the same style of expert, in-depth journalism that you expect from Golfweek..
I hope that you also enjoying www.golfweek.usatoday.com as well as our weekly digital newsletter products including: Monday Rewind, Get Equipped, Get Primed, Golf Life and Get Better. You can sign up for these here.
Thank you again for being a Golfweek Amateur Tour Member.
Sincerely,
Patrick Leahy
VP of Revenue - USA TODAY Golf
Publisher – Golfweek
CurrentNews:

As a Golfweek Amateur Tour Member, you will receive membership into a -USGA compliant club through USHandicap.com and issued an official USGA index.
Within 45 days of joining the tour and filling out the 2020 registration, each member will receive an email from USHandicap with instructions on how to sign into your account. You will not be able to access your Silver membership until you receive the confirmation email. Nothing will be mailed, everything will be done via email address.
See FAQ's here for more information.
Sign up today for Golfweek's FREE newletters reporting on the latest and greatest happenings in the game of golf.
The 2021 Servicemaster Battle on the James

The 2021 Servicemaster Battle on the James

KINGSMILL RIVER COURSE Host of the LPGA Kingsmill Championship

June 5th & 6th

Championship Flight - Chris Lamb from Washington, DC battled Spencer Mims of Tidewater, VA the entire weekend. Lamb finished with a two shot victory 74-73 147. Mims finished second at 74-75--149. JP Perry (Tidewater) 76-78, John Masotti (Eastern NC) 79-75 and Dennis Nelson (Tidewater) 79-75 all finished in a three way tie for third at 154.

A Flight- Tidewater player Dan Manferdini came from 1 shot back to get the win by 1 shot (77-76--153). Second Place went to Donnie Pritt of Eastern NC (76-78--154). Brandon Adamski of Washington DC took third place (83-73--156) and rounding out the Top-5 in a two-way tie for fourth place was Jason Hall of Tidewater (76-81—157) and Ryan Staples of Tidewater (82-75—157).

B Flight – Kevin Martin from the Tidewater tour was at the top almost the entire weekend (78-76--154). Second place went to Zane Sanford from Tidewater (80-79--159). Eastern NC's Heidi Rittenhouse was third (79-81--160) followed by a two-way tie for fourth place, John Lederer Tidewater (81-81--162) and Bill Glab Tidewater (77-85—162).

C Flight- The battle for the C flight went down to the back nine where six players looked to win. Tidewater player, Bobby Hargett took the Regional with (82-85--167). Followed by Ben Westmoreland of Tidewater (82-86—168) who took second place. Taking third place was Brian Harden Tidewater (83-87--170), fourth place was Nick Schapowal Tidewater (83-89--172) and fifth place was Mario Jones Tidewater (90-83--173).

D Flight- Tidewater player Chuck Aardahl came from 8 shots back to claim the win with 93-87--180 in a Sudden Death Two Hole Playoff. Day 1 leader, Brandon Manning from Tidewater took second at 85-95--180. Third place went to Chris Spanka of Tidewater (88-94--182), fourth place to Trace Perry from Nashville TN (94-89--183) and fifth place to Pedro Quintero El Paso TX (92-92--184).