2019 National Tour Championship
CurrentNews:
To all Golfweek Amateur Tour Members,
On behalf of the entire Golfweek organization, I want to thank you for your membership of the Golfweek Amateur Tour. We are incredibly proud of our relationship with what we feel is the best option for organized amateur competition for folks like you and me.
I am writing to inform you of some changes to our magazine frequency and format for 2021. Our plan is to publish four issues in 2021 including our annual Golfweek's Best in April and Ultimate Guide in December. In addition to these two issues, we will publish a new issue called Get Equipped in February that will highlight everything new in the game for 2021 including equipment, gear, places to visit and more. The second new issue is titled Golf Life in July and will feature in-depth stories and interviews with the movers, shakers and personalities that drive the business and sport of golf. We are excited about the new schedule and plan to bring the same style of expert, in-depth journalism that you expect from Golfweek..
I hope that you also enjoying www.golfweek.usatoday.com as well as our weekly digital newsletter products including: Monday Rewind, Get Equipped, Get Primed, Golf Life and Get Better. You can sign up for these here.
Thank you again for being a Golfweek Amateur Tour Member.
Sincerely,
Patrick Leahy
VP of Revenue - USA TODAY Golf
Publisher – Golfweek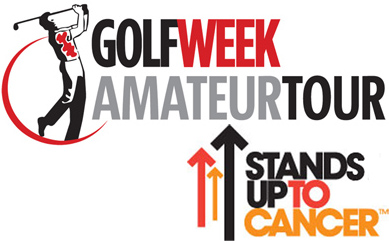 The Golfweek Amateur Tour invites you to join our team to STAND UP TO CANCER.
At the National Tour Championship each year, we will be doing National Raffles and taking donations for the cause. These raffles are open to anyone and you do not have to be present to win. The winners will be announced at the Scoreboard and posted on www.amateurgolftour.net.
Thanks to all participants and donors to Our Stand Up to Cancer Drive! We have raised over $250,000 to help to find a cure.
Why is The AGT STANDING UP TO CANCER ?
Many years ago at the National Tour Championship in Hilton Head, SC, the Golfweek Amateur Tour committed to help win the fight against cancer after the Tour lost a fellow director to cancer. Roger was not only a fellow tour director but a dear friend and as an expression of our grief, we put a story on our front page entitled "Golf is a great game for the small things that it does…"(Click here to read the story).
After a tremendous response from fellow golfers sharing similar stories, The Golfweek Amateur Tour realized how many of our Tour members' and directors' lives have been affected by cancer. We knew we had to make a difference. In honor of Roger, our directors, and our family of Tour members that have been touched by cancer, the Golfweek Amateur Tour will stand up as a team and help win the fight against cancer. We invite you to join us.
In 2009, the Golfweek Amateur teamed up with Stand Up to Cancer to raise $50000 in the coming seasons. Why the Stand Up to Cancer Organization? SU2C's goal is to bring together the best and the brightest in the cancer community, encouraging collaboration instead of competition. Our golfers and the many lives affected are not just affected by one type of cancer. Stand Up to Cancer supports research for all types of cancer, giving grants to the top cancer researchers in every field to find a cure for cancer in our lifetime.
So far we have almost met our goal through raffles, contests and donations. Both businesses and personal donors have been generous. However, we cannot stop here. We are committed to continue our efforts for years to come.
During the coming seasons, the Golfweek Amateur Tour's initiative will continue with donations being accepted through the website and at tournaments, culminating at the National Tour Championship in October. In honor of our directors and our family of Tour members that have been touched by cancer, the Golfweek Amateur Tour will stand up as a team and help win the fight against cancer. We invite you to join our team, invite others to join, and give all that you can to help others have the chance to swing another day.
For information on how to get involved and make a difference, please email us at jmac@amateurgolftour.net.