2017 National Tour Championship
CurrentNews:
To all Golfweek Amateur Tour Members,
On behalf of the entire Golfweek organization, I want to thank you for your membership of the Golfweek Amateur Tour. We are incredibly proud of our relationship with what we feel is the best option for organized amateur competition for folks like you and me.
I am writing to inform you of some changes to our magazine frequency and format for 2021. Our plan is to publish four issues in 2021 including our annual Golfweek's Best in April and Ultimate Guide in December. In addition to these two issues, we will publish a new issue called Get Equipped in February that will highlight everything new in the game for 2021 including equipment, gear, places to visit and more. The second new issue is titled Golf Life in July and will feature in-depth stories and interviews with the movers, shakers and personalities that drive the business and sport of golf. We are excited about the new schedule and plan to bring the same style of expert, in-depth journalism that you expect from Golfweek..
I hope that you also enjoying www.golfweek.usatoday.com as well as our weekly digital newsletter products including: Monday Rewind, Get Equipped, Get Primed, Golf Life and Get Better. You can sign up for these here.
Thank you again for being a Golfweek Amateur Tour Member.
Sincerely,
Patrick Leahy
VP of Revenue - USA TODAY Golf
Publisher – Golfweek
Congratulations to the 2017 Golfweek Amateur Tour National Champions!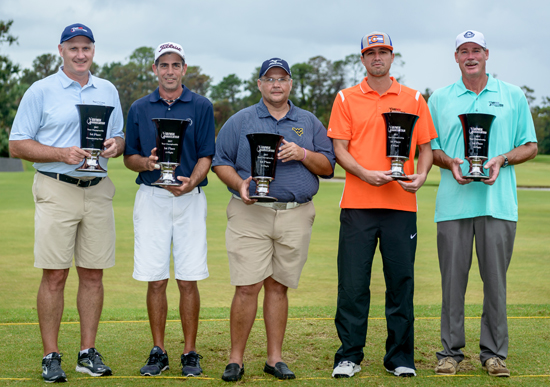 Left to Right: Joe Jaspers, Charlotte, NC - Championship Flight
Tom Chambers, Charlotte, NC - A Flight
Kasey Dickenson, Kentucky - B Flight
Luke Lavorato, Charlotte, NC - C Flight
Willie Hughes, Tidewater, VA - D Flight
CLICK HERE to watch the video and see the 2017 Champions make their final shots


Joe Jaspers claims his 6th National Championship title at the Golfweek Amateur Tour Championship in October. The National Championship hosted over 850 players on eight golf courses on Hilton Head Island.
Jaspers fired rounds of 68-75-73—216 in winning the event for the sixth time in his career. "If I get to 10 (titles), it would never get old," said Jaspers, who played his best golf in Friday's opening round at Hilton Head Country Club to build a big lead he would never relinquish.
Having battled through some mechanical issues with his swing, Jaspers' putter kept him in front and when he gained command of his game early in Sunday's final round, there was no catching him.
A couple bogeys early in the final round brought a glimmer of hope to the field as Jeff Moritz trimmed an 8-shot deficit to five by the fourth hole. But Jaspers answered with a string of birdies at 6, 7 and 8 to provide some cushion and keep Moritz and the rest of the field at bay. "That was huge because I was struggling the first couple holes. I was still trying to find my swing a little bit and that stretch there I started to hit solid shot after solid shot."
The three birdies gave Jaspers a near double-digit lead over Moritz and the only goal was to avoid big numbers coming home. "I knew I put myself in good position," Jaspers said. "When you play golf in this area, there's so much trouble and a big number is waiting to happen anywhere. I was fortunate on Saturday (played at Palmetto Hall's Arthur Hills Course) because I didn't hit the ball very well, but I putted well. My short game really saved me."
Friday's 68 put a temporary hold on Jaspers' season of frustration – a season in which he has continuously encountered swing issues. Several weeks ago, Jaspers was sitting pretty with nine holes remaining in stroke play of the U.S. Mid-Amateur in Atlanta. That's when his swing abandoned him and Jaspers played the final seven holes in 7-over to miss entry into match play by just three shots.
"My game has been very erratic this year. I will have a good round going then somewhere on the back nine I start making bogeys. I was able to kind of hold that off this week because of my short game, especially Saturday.
"I had misses going both ways. When you're standing on the tee and not knowing where your misses are, it's hard to compensate."
Jaspers says he "wasn't sitting back into my right hip on my back swing" and once he figured that out, shots improved. Thankfully for him, Friday's opening round was error-free as he built a 4-shot lead that would hold up even through Saturday's potentially-disastrous round. Spraying shots off the tee, Jaspers may have been fortunate to scratch out a 75 Saturday and maintain his 4-shot advantage into Sunday.
"I built a big enough lead to give me a cushion, but you get one wild shot and you can make a double or triple in a heartbeat."
With six titles under his belt, Jaspers has no intention of letting up. Eligible to compete in the Senior Division, Jaspers will go for as many championships in his current division before wreaking havoc elsewhere on the older circuit.
"As long as my body will hold up and I can still hit the ball far enough where I can compete, I'll keep coming back."
In the A Flight, Tom Chambers (Charlotte) had a few struggles coming down the stretch but held on to claim his first ever National Championship by two shots at 233 over Storm Swinney from the Louisiana South tour at 235.
In the B Flight, the Kentucky Tour Director Kasey Dickenson battled hard all day and hung on to win by two shots at 240 over Edward Greenfield of Arkansas 242.
In the C Flight, Luke Lavorato from Charlotte won by five at 248 and Arkansas member Robert Luter was second at 253.
In the D Flight, Tidewater's Willie Hughes finishes at 275 for the victory followed by Anthony Caraccio of the Metro NY tour at 279.
The Team Cup results saw the Charlotte, NC Tour defend its title with a three day total of 2486 followed by the Louisiana South Tour (2528), the Orlando Tour (2532), the Kentucky Tour (2553) and Tidewater, VA Tour (2554.)
See Previous National Tour Championship Results here