WhatsNew:
To all Golfweek Amateur Tour Members,
On behalf of the entire Golfweek organization, I want to thank you for your membership of the Golfweek Amateur Tour. We are incredibly proud of our relationship with what we feel is the best option for organized amateur competition for folks like you and me.
As you know, one of the current benefits of your Golfweek Amateur Tour membership is a subscription to Golfweek Magazine. Over the past few years, we have made continuing adjustments to the frequency of our printed magazine to better align with how advertisers value our print and online offerings and in the best interests of our long-term business. Due to the impact of COVID-19 on our advertisers and our overall business, we have had to make even more reductions to the frequency of our printed magazine for the remainder of the year in order to keep our talented writers and support team in place. We appreciate your understanding.
At the same time, we have invested heavily into www.golfweek.com to make it the best place for avid golfers and golf fans to get their golf news. I encourage you to bookmark the site and to subscribe to our daily newsletters. Here is the link: https://golfweek.com/newsletter/
Thank you again for being a Golfweek Amateur Tour Member.
Best regards,
Patrick Leahy
VP of Revenue - USA TODAY Golf
Publisher – Golfweek
CurrentNews:

As a Golfweek Amateur Tour Member, you will receive membership into a -USGA compliant club through USHandicap.com and issued an official USGA index.
Within 45 days of joining the tour and filling out the 2020 registration, each member will receive an email from USHandicap with instructions on how to sign into your account. You will not be able to access your Silver membership until you receive the confirmation email. Nothing will be mailed, everything will be done via email address.
See FAQ's here for more information.
Join The Golfweek Amateur Tour and get a free subscription to GOLFWEEK Magazine!
Every member of the Golfweek Amateur Tour receives a free one year subscription to GOLFWEEK Magazine. That includes both digital and print editions.
To start your subscription, you must fill out the tour application when paying your membership fees. Click here to join the Tour. .
Once your first issue has been mailed, you will receive an email from Golfweek with a link to the current digital edition.For more information on digital access, please review the FREQUENTLY ASKED QUESTIONS here.
NOTE: Please allow 4-6 weeks for your subscription to be activated. Digital subscriptions will only be activated when there is a print issue.
See below for the 2020 Golfweek Print Schedule:
| ISSUE | APPROX MAIL DATE |
| --- | --- |
| JULY | JULY 16 |
| SPECIAL | JULY 24 |
| SEPT | SEPT 5 |
| NOV | OCT 30 |
| ULTIMATE | DEC 17 |
Sign up today for Golfweek's FREE newletters reporting on the latest and greatest happenings in the game of golf.
JULY 2020 STORIES
---
July 4, 2020- Eagle Creek Golf Club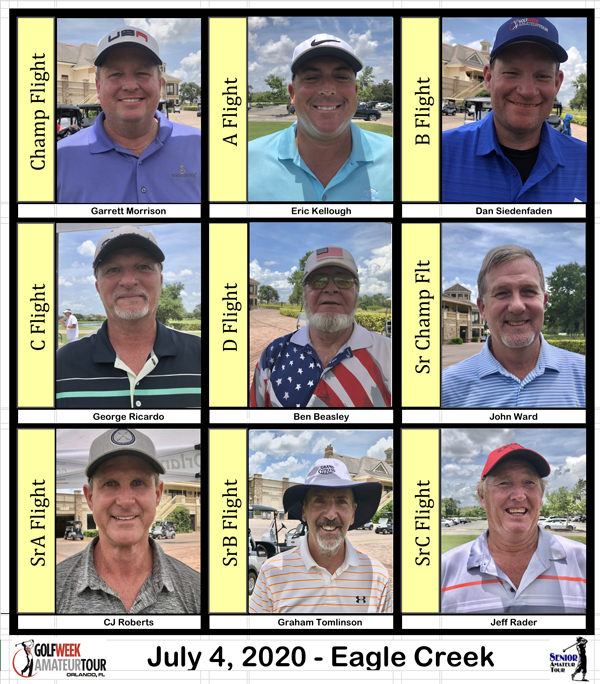 Orlando, FL   We celebrated the July 4 holiday at Eagle Creek in Orlando.  We had our own fireworks as there were low scores everywhere—Golfweek and Senior Tour!  John Ward put up a 69 in Senior Champ flight for the best score of the day.  CJ Roberts shot 70 in Senior A.  There were more--see below!  This tour favorite—a par 73 layout with five par-5's--was in fine shape as we entered the second half of our season.  We had two playoffs before we were done.  Graham Tomlinson continued his fine play in SrB flight this year as he topped another hot player, Eddie Medina on the first extra hole.  It also took just one hole to settle D flight as Ben Beasley beat William O'Connor...  The win pushed Ben up to C flight. Three flights needed playoffs to decide a winner.
Championship Flight—Tour  veteran Garrett Morrison fired a 1-under par 72 to grab to a 1 stroke victory over three players—Anthony Powell, James Dailey and Chad Frank, all with 73's. 
A Flight—Eri Kellough fired an even par 73 to run away with A Flight.  Michael Gomes and Ben Taylor shot 78.  Chris Burns took fourth with 79.
B Flight—Dan Seidenfaden led the low scores in B flight with 76.  Justin Carroll and Tony Prensa came in with 77 to finish T2 and Bill DeTorres was third with 78..  Carroll earned a promotion to A flight after another fine round.
C flight—George Ricardo shot 83 to edge past last week's winner Charlie James to take C flight by a stroke.  Dave Rubach shot 84 to tie James for second.
D Flight—Ben Beasley and William O'Connor posted 86's to force the second playoff in as many tournaments in D flight.  Ben won on the first extra hole.  Danny Hinkley was third.
---
July 11, 2020 - Independence Open by GreatLife KC @ Drumm Farm GC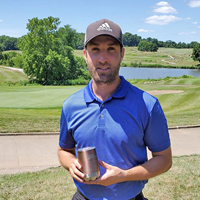 Championship Flight: Josh Semenuik kept a steady head as Jacob Bruhn rattled off 5 birdies in a row to get to 2 under par. A stumble on 17 by Bruhn led to an opportunity for Semenuik to tie with a 15 foot birdie putt on 18 leading to a playoff after a tied finish of 72. Semenuik took home the win on the 2nd playoff hole after carding two pars. Dave Kearney was third with 77.
A Flight: The A flight had drama of its own, leading to a 3 way playoff. Gene Twomey sunk a 20 foot birdie putt on 18 to tie Alex Fortuna and Dale Nash at 78. All three players went back to the 18th tee box. After Nash hit his tee shot into the hazard, it was a 2 man event. Both players went for the green in two, with Twomey just right of the green and Fortuna just over it. Fortuna made a birdie to win the trophy.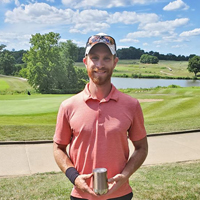 B Flight: Dillon Roger's work with a local pro was put on display as he played solid golf, carding a 79 to win the B flight. Mike Latimer needed to hole his 8 foot birdie putt to tie Roger but just wrapped it around the hole to take 2nd place with 80. Andrew Kijowski took third with 81.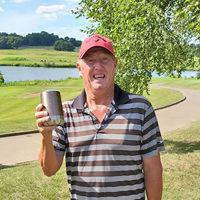 C Flight: Jeff Rader finished strong with a string of pars to win with a solid 82 and a promotion to B flight. Adam Reber finished solo second with 83 and 86 took third place in a six way tie between Peter Przymus, Jon Beachner, Kyle Bauer, Kelly Bordewick, Nathan Holden, and Lyndsey Baxter.
D Flight: Steve Koch and Branden Love made the course look easy today with both shooting 43 on the front 9.  But Koch bested Love by 2 on the back to shoot a 45 and win with a solid 88. Marcus Swinson finished third with 92.
---
---
---
---
---
---
---
---
---
---