2019 National Tour Championship
CurrentNews:
To all Golfweek Amateur Tour Members,
On behalf of the entire Golfweek organization, I want to thank you for your membership of the Golfweek Amateur Tour. We are incredibly proud of our relationship with what we feel is the best option for organized amateur competition for folks like you and me.
I am writing to inform you of some changes to our magazine frequency and format for 2021. Our plan is to publish four issues in 2021 including our annual Golfweek's Best in April and Ultimate Guide in December. In addition to these two issues, we will publish a new issue called Get Equipped in February that will highlight everything new in the game for 2021 including equipment, gear, places to visit and more. The second new issue is titled Golf Life in July and will feature in-depth stories and interviews with the movers, shakers and personalities that drive the business and sport of golf. We are excited about the new schedule and plan to bring the same style of expert, in-depth journalism that you expect from Golfweek..
I hope that you also enjoying www.golfweek.usatoday.com as well as our weekly digital newsletter products including: Monday Rewind, Get Equipped, Get Primed, Golf Life and Get Better. You can sign up for these here.
Thank you again for being a Golfweek Amateur Tour Member.
Sincerely,
Patrick Leahy
VP of Revenue - USA TODAY Golf
Publisher – Golfweek
The 2019 Golfweek Amateur Tour Championship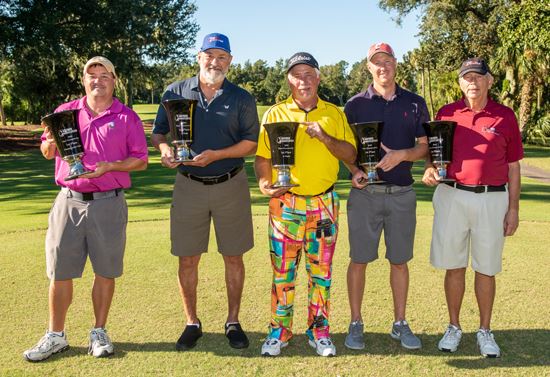 Congratulations to the 2019 Golfweek Amateur Tour National Champions!
Left to Right: Jeff Wong, Hilton Head- Savannah- Championship Flight
Robert Yurasovich, Milwaukee, WI - A Flight
Ted Turner Jr., Augusta, GA- B Flight
Alex Hoying, Cincinnati/Dayton, OH- C Flight
Jim Dean, North Central Florida - D Flight


MANY THANKS TO ALL OF YOU WHO DONATED, WE HAVE RAISED OVER $250,000!
Record showing on 25th anniversary!
HILTON HEAD ISLAND, S.C. – This year's tournament marked the 25th anniversary of the Golfweek Amateur Tour National and it drew the largest field for the Tour Championship in its history. In all, a record 927 players competed this year with all 49 tours represented for the first time.
In golf years, Jeff Wong may seem a bit of a neophyte to most of his competitors at the Golfweek Amateur Tour National Championship. But in terms of focus and composure, Wong may actually be among the most seasoned of veterans.
The former collegiate tennis player who won state championships as a junior did not begin to play golf seriously until he was two years removed from his days as a scholarship netter at Utah State. His passion and dedication to his new sport of golf paid dividends this week as Wong captured the Champ Flight Championship by six shots in an event shortened to 36 holes due to heavy rains Saturday.
"I always had friends who played golf," Wong said about the days before the golf bug bit him. "Late in high school and even in college I'd go out with buddies and shoot 95-100, but we were going out just to have a good time – it wasn't competitive at all."
Wong has come a long way from shooting 100. He opened the tournament Friday at the Jones Course with a 4-under-par 68 that gave him a 4-shot lead that would carry through Saturday's cancelled round and set up what would be an interesting finish at Dolphin Head Course.
Wong maintained his 4-shot lead over David Griffin heading to the closing nine where Griffin made his move. At the par-3 17th, Griffin narrowed the gap to just one shot when Wong 3-putted from about 20 feet, setting up some drama on the par-5 18th that offers some risk-reward possibilities with short length but water protecting the green.
"He was hitting it long, straight and in control," Wong said of Griffin. "I fully expected him to hit a good drive and probably knock it on the green in two – he had to be thinking eagle, so I knew I had to make birdie."
Griffin pushed his tee shot slightly right and it found the water which wasn't too clear to the players on the tee at that time. Wong's tee shot faded right as well, but came up several feet short of the water to leave him squarely in control, then he put his second shot in a greenside bunker.
After taking a drop, Griffin hit his next two shots in the water to end all hopes.
"I felt so bad for him because at that point he still had a chance," Wong said. "He can get it on in three and still make birdie, which means I have to make par. Then when he hit the second one in (the water) I knew that was it."
Wong finished at 68-70—138 to beat Griffin by six in a finish that was much closer than the final margin would indicate. He admitted that it wasn't until that final moment that he even looked at the leaderboard showing live scoring on the mobile app. That focus away from what the field may have been up to is what Wong credits much of his success.
"You have to be in the right head space," said Wong, who won all five events on the Hilton Head Tour in which he competed this year. "That's one of my biggest strengths – my mental approach. I'm able to forget the bad stuff real quickly – I've never thrown a club in my life. My plan was just to hit fairways and greens and not worry about what anyone else was doing."
On Friday, the plan came to fruition as Wong hit 15 greens in regulation and was deadly accurate with his short irons. The longest birdie putt he sank was from 15 feet; he had another from four feet and the rest merely tap-ins.
But fairways and greens were hard to come by early in Sunday's round. Wong missed each of the first four fairways and greens, but was saved by his wedge in earning all pars. At the fifth, he finally hit his first green in regulation then followed that up with his first birdie at the sixth. "With the birdie at 6, I felt like I had weathered the storm and could relax after that. I just stuck to my routine and didn't worry about what anyone else was doing."
His mental approach has served him well in golf, his new passion approaching middle age after a youth spent on the hard courts. Growing up in southern Idaho, Wong won three state tennis championships as a junior but realized much later that golf was actually a part of his DNA all along.
Griffin, who was playing the final round one day before getting married, finished alone in second place with rounds of 72-72—144.
Jeff Wong, Hilton Head-Savannah (68-70—138)
David GriffIn, Louisiana South (72-72—144)
Jamie Manning, Hilton Head-Savannah (77-70—147)
Chad Frank, Orlando, FL (74-73—147)
Joe Jaspers, Charlotte, NC (73-74—147)
In A Flight, Robert Yurasovich notched three birdies in Sunday's final round to earn a 4-shot win over Brent Densmore, James Earnhardt and Randy Tame.
Robert Yurasovich, Milwaukee, WI (74-75—149)
Brent Densmore, Hilton Head-Savannah (76-77—153)
James Earnhardt, Upstate SC (76-77—153)
Randy Tame, Charleston, SC (74-79—153)
Troy Hudson, North Central Florida (82-72—154)
In B Flight, Ted Turner, Jr. needed pars on the last two holes to pull out a 1-shot victory over a foursome of players. Turner finished at 83-80—163 and carded two birdies in Sunday's final round.
Ted Turner, Jr., Augusta, GA (83-80—163)
Jace Gause, Charleston, SC (87-77—164)
Rob Shim, Columbus, OH (84-80—164)
Sokhary Pavese, Eastern NC (81-83—164)
John Robinson, Hilton Head-Savannah (78-86—164)
In C Flight, Alex Hoying withstood some strong final-round charges in taking home a 1-shot victory over Mike Penn. He shot 82-86—168 in beating Penn by one and hard-charging Jason Page by two and Travis Rinehart by three.
Alex Hoying, Cincinnati/Dayton, OH (82-86—168)
Mike Penn, Birmingham, AL (84-85—169)
Jason Page, Augusta, GA (92-78—170)
Travis Rinehart, Columbus, OH (95-76—171)
Kevin Seeley, Columbus, OH (89-83—172)
In D Flight, Jim Dean rallied from five shots back to earn a 2-shot victory over Tom Gould. Dean finished at 91-87—178 while Paul CarpentIer's 85 was the low round of the day.
Jim Dean, North Central Florida (91-87—178)
Tom Gould, Charlotte, NC (86-94—180)
Paul Carpentier, Michigan West (96-85—181)
Vince Vaghela, Memphis/North Mississippi (90-95—185)
Reggie Williams, Michigan East (97-89—186)
The Hilton Head -Savannah Tour took the Team Cup for the first time ever with a two day total of 1668 stokes. The Charlotte, NC Tour took second with 1670 shots followed by the Columbus, OH Tour (1672). The Jacksonville, FL Tour and the Orlando, FL Tour tied for fourth with a two day total of 1689.
See Previous National Tour Championship Results here