2018 National Tour Championship
CurrentNews:
To all Golfweek Amateur Tour Members,
On behalf of the entire Golfweek organization, I want to thank you for your membership of the Golfweek Amateur Tour. We are incredibly proud of our relationship with what we feel is the best option for organized amateur competition for folks like you and me.
I am writing to inform you of some changes to our magazine frequency and format for 2021. Our plan is to publish four issues in 2021 including our annual Golfweek's Best in April and Ultimate Guide in December. In addition to these two issues, we will publish a new issue called Get Equipped in February that will highlight everything new in the game for 2021 including equipment, gear, places to visit and more. The second new issue is titled Golf Life in July and will feature in-depth stories and interviews with the movers, shakers and personalities that drive the business and sport of golf. We are excited about the new schedule and plan to bring the same style of expert, in-depth journalism that you expect from Golfweek..
I hope that you also enjoying www.golfweek.usatoday.com as well as our weekly digital newsletter products including: Monday Rewind, Get Equipped, Get Primed, Golf Life and Get Better. You can sign up for these here.
Thank you again for being a Golfweek Amateur Tour Member.
Sincerely,
Patrick Leahy
VP of Revenue - USA TODAY Golf
Publisher – Golfweek
The 2018 Golfweek Amateur Tour Championship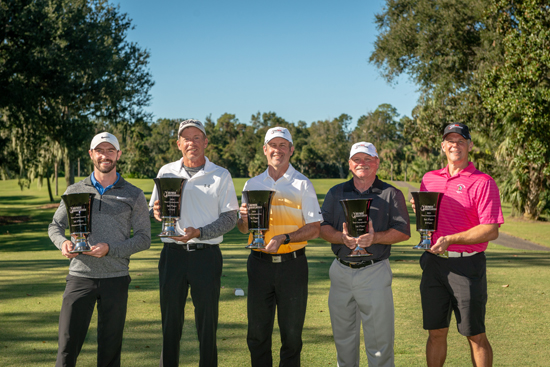 Congratulations to the 2018 Golfweek Amateur Tour National Champions!
Left to Right: John Swoboda, Nashville, TN - Championship Flight
Ed Veal, Mississippi Gulf Coast - A Flight
David Sonnenberg, Michigan West - B Flight
Robert McMillan, Augusta, GA - C Flight
Dave Robinson, Michigan West - D Flight


MANY THANKS TO ALL OF YOU WHO DONATED, WE HAVE RAISED OVER $200,000!
HILTON HEAD, S.C. – John Swoboda of the Nashville Tour closed the book on his amateur golf career Sunday, writing a final chapter that ended with a national championship.
The 25-year-old from Mount Juliet, Tenn., wrapped up a two-shot victory at the Golfweek Amateur Tour National Championship and plans to embark on a new tale as a professional golfer. "I've wanted to be a professional golfer since I was 13," said Swoboda, whose biggest victory to date was the Tennessee State Amateur in 2017. "I envisioned turning pro a lot earlier, but I wasn't ready. I didn't have the record I wanted, and it took a little longer than I thought."
In windy conditions at Hampton Hall Golf Club, Swoboda overcame a two-shot deficit and a shaky wedge around the greens to scrape out the win, his first in three appearances at the championship. Knocking it close for birdies at 10 and 11 put him in the lead, and then he made several long putts down the final stretch to hold off challenger and former champion Jay Barnes of the Charlotte Tour.
With heavy winds taking a toll, bogeys at 13 and 14 didn't knock Swoboda from the lead, and he took advantage of a critical up-and-down at the par-5 15th for birdie. "That was definitely the shot of the tournament for me there," Swoboda said. "The only shot I had was a straight flop shot – I opened up the face and swung as hard as I could."
At 16 and still nursing a one-shot lead over Barnes, Swoboda rolled in a 25-footer for birdie to extend the lead. After chunking his 8-iron approach at 17, it appeared once again that Barnes could close the gap, but Swoboda buried a 35-footer for birdie. "I definitely choked," Swoboda said of his mis-hit.  "On the putt, I was just trying to sneak one up there, and that one went in as well. I'm sure (Barnes) definitely thought he would get a shot on me from there." With a two-shot cushion on the final hole, Swoboda carded a routine par to bring home the trophy. He finished with rounds of 74-73-74–221 against Barnes' 71-74-78–223.
Swoboda competed in the event in 2013 and 2015 but was unable to muster a victory. His said his win in the 2017 Tennessee State Amateur boosted his confidence . "I learned a lot of things that week," Swoboda said of his Tennessee Am win. "That win I had to birdie a few holes down the stretch to win. Coming down the stretch today, I was able to use that experience." Swoboda has honed his skills at Pinecreek Golf Course in Mount Juliet, where he works part-time. Next up is a move to Orlando, with some sponsor help to get his career going.
In the A Flight, Ed Veal of the Mississippi Gulf Coast Tour defeated Fred Dixon of the Charleston, SC Tour with a birdie on the first playoff to claim the title. Both Veal and Dixon fired final rounds of 80 which was just good enough to hold off a hard charge from Andres Lopez from the Hilton Head- Savannah Tour, who finished tied for third with rounds of 81-82-74—237.
Veal shot 76-80-80—236 while Dixon put together rounds of 81-75-80—236. Jesse Smith from the Kentucky Tour shared third place with Lopez by posting rounds of 79-80-78—237 while opening-round leader Corey Ferger of the Atlanta Tour fell back to fifth place at 75-76-87—238.
In the B Flight, David Sonnenberg (87-80-85–252) of the Michigan West Tour emerged from a tight group for a one-shot victory over a trio of players. Sonnenberg posted rounds of 87-80-85—252 in avoiding a playoff with Central Carolina Tour's Rob Geilhausen (85-84-84—253), Nashville Tour's Cage Ellis (84-81-88—253) and Charlotte Tour's Dirk Krause (82-82-89—253).
 In the C Flight, Robert McMillan of the Augusta, Ga. Tour defeated Mike Gehrke from the Central Carolina Tour in a playoff for the title. McMillan, who trailed Gehrke by six shots after the opening round, finished regulation at 89-86-88—263 while Gehrke came in at 83-94-86—263.
Robert Luter from the Arkansas Tour missed the playoff by just one shot after firing rounds of 85-91-88—264 while North Central FL Tour's Shawn Prevatte (92-94-82—268) and Tidewater, VA Tour's Kennedy Bland (87-92-89—268) shared fourth-place honors.
In the D Flight, Dave Robinson of the Michigan West Tour ran away from the field in posting a 6-shot victory. Robinson fired rounds of 89-86-91—266 in leading wire-to-wire.
Chicago Tour's Lou Rymarcsuk's second-round 80 was the low round of the tournament and pulled him within a shot of Robinson, but he shot 100 the final round to finish alone in third place 10 shots off the pace.
Wayne Creese  from the Orlando Tour finished alone in second place with rounds of 92-87-93—272 while Michigan East Tour's Joshua Bernheisel placed fourth at 98-83-96—277.
See Previous National Tour Championship Results here