2014 National Tour Championship
CurrentNews:
To all Golfweek Amateur Tour Members,
On behalf of the entire Golfweek organization, I want to thank you for your membership of the Golfweek Amateur Tour. We are incredibly proud of our relationship with what we feel is the best option for organized amateur competition for folks like you and me.
I am writing to inform you of some changes to our magazine frequency and format for 2021. Our plan is to publish four issues in 2021 including our annual Golfweek's Best in April and Ultimate Guide in December. In addition to these two issues, we will publish a new issue called Get Equipped in February that will highlight everything new in the game for 2021 including equipment, gear, places to visit and more. The second new issue is titled Golf Life in July and will feature in-depth stories and interviews with the movers, shakers and personalities that drive the business and sport of golf. We are excited about the new schedule and plan to bring the same style of expert, in-depth journalism that you expect from Golfweek..
I hope that you also enjoying www.golfweek.usatoday.com as well as our weekly digital newsletter products including: Monday Rewind, Get Equipped, Get Primed, Golf Life and Get Better. You can sign up for these here.
Thank you again for being a Golfweek Amateur Tour Member.
Sincerely,
Patrick Leahy
VP of Revenue - USA TODAY Golf
Publisher – Golfweek
Thank you to all participants in the 2014 National Tour Championship!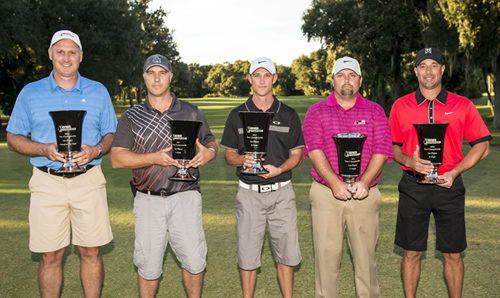 (L to R): Joe Jaspers, Championship; Dan Wanner, A; Brandon Maple, B; Kevin Parker, C; Mike Roten, D


By Carlton Reese; October 19, 2014
HILTON HEAD ISLAND, S.C. – Please forgive Joe Jaspers if his recent run of golfing success doesn't plant some crazy ideas of grandeur into his head.
He's coming off victories in the Charlotte (N.C.) City Amateur (fifth consecutive) and more recently the North Carolina Mid-Amateur. On Sunday, Jaspers captured his second consecutive Golfweek Amateur Tour Championship title and fifth overall.
Playing some of the best golf of his life, the 48-year-old Jasper has his eyes set squarely onto the senior circuit.
"I'm looking forward to getting onto Dennis' senior tour," Jasper said jokingly about gaining eligibility for Dennis McCormac's senior division of the Golfweek Amateur Tour. "It would be fun at one point to try and qualify for a (professional senior) event, but I don't have any designs on that. I tell people that if I can't win a state amateur it's kind of silly for me to think I can skip that level and go make money at it."
The Golfweek Amateur Tour has provided Jaspers, who plays the Charlotte Tour, with high-level amateur competition to keep his competitive fire.
He built a five-shot lead heading into the final round and withstood an early challenge en route to a four-shot victory over Eric King (Kentucky Tour).
"It's never old hat," Jaspers said. "It's always big. You always come down here wanting to play well."
Jaspers shot 72-71 heading into the final round at the difficult Bear Creek track under windy conditions. He struggled early with four bogeys on the front nine and saw Andrew Tindall(Michigan East Tour) close the gap by playing the first seven holes in 1 under.
Tindall turned to the back nine only one shot behind and Jaspers had to refocus.
"At that point, I'm just thinking that fortunately I had a big lead coming in," Jaspers said. "So now it's like any other tournament where you're tied for the lead."
Jaspers played the final 12 holes in even par, while Tindall slipped back with a triple bogey at No. 12.
"I did not drive the ball well, especially on the front nine," Jaspers said. "I was a little erratic, not hitting it solid, but I righted the ship on the back nine and (Andrew) just had a disastrous back nine, which was too bad because he was playing really well."
Jaspers finished at 219. King closed with 2-under 34 on the back and finished 78-70-75–223 for second.
Dallas Massey (Denver Tour) shot 76-74-76–226 for third. Tindall finished eighth at 70-78-82–230.
• In the A flight, Dan Wanner (Charleston, S.C., Tour) won a playoff over Gordan Brixi(Washington DC Metro Tour) after both finished at 235. Wanner shot 83-76-76, while Brixi shot 81-79-75. Jimmy Lawrence (Louisiana South Tour) finished third at 76-84-76–236.
• In the B flight, Brandon Maple (Arkansas Tour) shot 82-89-83–244 for a two-shot victory over Bob Burinskas (Tidewater, Va., Tour), who shot 86-80-80–246. Jason Dores (Charleston Tour, 80-86-83), Robert Luter (Arkansas Tour, 84-82-83) and Matthew Nolan (Jacksonville, Fla., Tour, 84-85-80) tied for third at 249.
• In the C flight, Kevin Parker (Downeast NC Tour) survived his worst round of the tournament but still won by three shots over Gene Garrick (Tidewater, Va, Tour). Parker shot 81-80-88–249. Garrick finished at 88-83-81–252. Vic Lowenstein (Chicago Tour) was third at 81-95-85–257.
• In the D flight, Mike Roten (Columbus, Ohio, Tour) shot 88-93-83–264 for a two-shot victory. Matt Thompson (Chicago Tour) was second at 88-90-88–266, followed by William Hinson (Columbia, S.C., Tour) in third at 84-94-89–267.
In the Edwin Watts Two-Man Challenge, Joe Jaspers and Jim Aughtry (Charlotte, N.C., Tour) teamed to win the Championship flight at 451. Other winning teams: Joe Aikens-Jason Snider (Michigan West Tour) in the A flight; Jason Dores-Joe Turner (Charleston, S.C., Tour) in the B flight, John Robinson-Rich Davies (Hilton Head-Savannah Tour) in the C flight; Trent Parker-Dallas Shackleford (Downeast NC Tour) in the D flight.
See Previous National Tour Championship Results here