"Where Amateurs Play Like Pros!"
Be A Champion on the Golfweek Amateur Tour!
Flight leaders from each local tour will be invited to compete against the top tour members across the country at the 54-hole National Championship in Hilton Head, SC.

The 2021 Golfweek Amateur Tour Championship will be in held October 15-17 with a flighted skins game on October 14.
Tournament Cost is $450
July 7, 2021
2021 Regionals
February 1, 2021
JOIN TODAY
Become a member of The
Golfweek Amateur Tour…
The Oldest and Largest Amateur Tour in the Country!

What's New:
To all Golfweek Amateur Tour Members,
On behalf of the entire Golfweek organization, I want to thank you for your membership of the Golfweek Amateur Tour. We are incredibly proud of our relationship with what we feel is the best option for organized amateur competition for folks like you and me.
I am writing to inform you of some changes to our magazine frequency and format for 2021. Our plan is to publish four issues in 2021 including our annual Golfweek's Best in April and Ultimate Guide in December. In addition to these two issues, we will publish a new issue called Get Equipped in February that will highlight everything new in the game for 2021 including equipment, gear, places to visit and more. The second new issue is titled Golf Life in July and will feature in-depth stories and interviews with the movers, shakers and personalities that drive the business and sport of golf. We are excited about the new schedule and plan to bring the same style of expert, in-depth journalism that you expect from Golfweek.
I hope that you also enjoying www.golfweek.usatoday.com as well as our weekly digital newsletter products including: Monday Rewind, Get Equipped, Get Primed, Golf Life and Get Better. You can sign up for these here.
Thank you again for being a Golfweek Amateur Tour Member.
Sincerely,
Patrick Leahy
VP of Revenue - USA TODAY Golf
Publisher – Golfweek
CurrentNews:

As a Golfweek Amateur Tour Member, you will receive membership into a -USGA compliant club through USHandicap.com and issued an official USGA index.
Within 30 days of joining the tour and filling out the 2020 registration, each member will receive an email from USHandicap with instructions on how to sign into your account. You will not be able to access your Silver membership until you receive the confirmation email. Nothing will be mailed, everything will be done via email address.
See FAQ's here for more information.
Sign up today for Golfweek's FREE newsletters reporting on the latest and greatest happenings in the game of golf.
GAME ON!
THE GOLFWEEK AMATEUR TOUR NATIONAL CHAMPIONSHIP IS UNDERWAY!!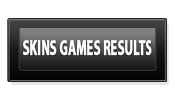 Southern Regional, Kiawah island, SC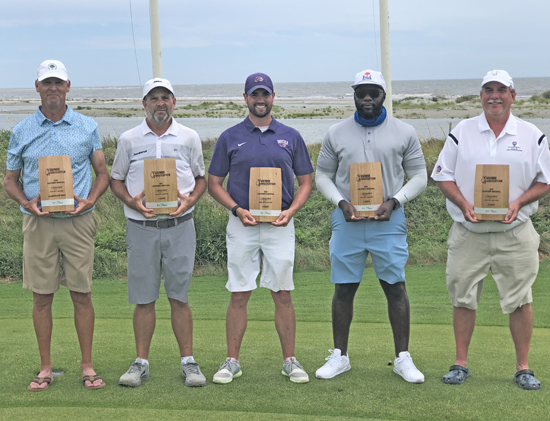 Scott Roberts, Ron Pontiff, TJ Eaves, Shannon Osborne and David Schmidt all win at the Southern Regional in Kiawah.

This year's 36-hole Southern Regional had 128 players from 25 different tours competing at Osprey Point and The Ocean Course on Kiawah Island. 
Championship Flight:Scott Roberts from the Charlotte tour and the current National Champion fired 69 the first day at Osprey Point.  Roberts, who now has won this event twice, went into the 18th at the Ocean at three-under-par until he hit his ball into the green side bunker and could not find it.  The end result was still enough for the victory by two shots with a 69-72-141 total.  Chris Daily (Cleveland/Akron) finished solo second with rounds of 72-71-143.  Bryan Benton (Jacksonville) was third at 145 followed by Brian McGowan (Charlotte) at 149 and last year's winner Jeff Wong (Hilton Head/Savannah) with 152.

A Flight:Ron Pontiff (Eastern NC) won by three shots with rounds of 72-81-153 for the victory. Radek Klauda (Hilton Head/Savannah) and Lee Dixon (Charleston) tied second at 155 and John Dobbins (Hilton Head/Savannah) was fourth with 155 followed by Joe Combs (Hilton Head/Savannah) 159.

B Flight:TJ Eaves (Upstate) grabbed the victory with a two-day total of 157.  Doug Burford (Hilton Head/Savannah) and Jerry Drewry (Nashville) tied second, only two shots back at 159.  Elvis Sheahan (Eastern NC) finished fourth at 161 followed by Indiana Western KY's own Charlie Dunn and Matt Jacobs both at 162.

C Flight:Shannon Osborne (Charlotte) won by two shots with a two-day total of 170.  James Ravenel (Charleston) finished solo second at 172 followed by Brian Gregor (Charlotte) at 173.  Ronnie Henderson (Jacksonville) and Tony James both tied for fourth place with 176.

D Flight:David Schmidt (Augusta) won by just one shot with a two-day total of 179.  Alex Franklin (Upstate) was second with 180 followed by Cody Peyton (Columbia) at 183.  Cleve Johnson (Charleston) finished fourth at 184 followed by Al Legare (Hilton Head/Savannah) with 187.

Thanks to everyone at Kiawah Resort for having both courses in excellent shape.  Also, a big thank you to Caddy Master Brandon Woods on always taking care of the players with personal caddies on Sunday at the Ocean Course.

The Battle on the James River, Williamsburg, VA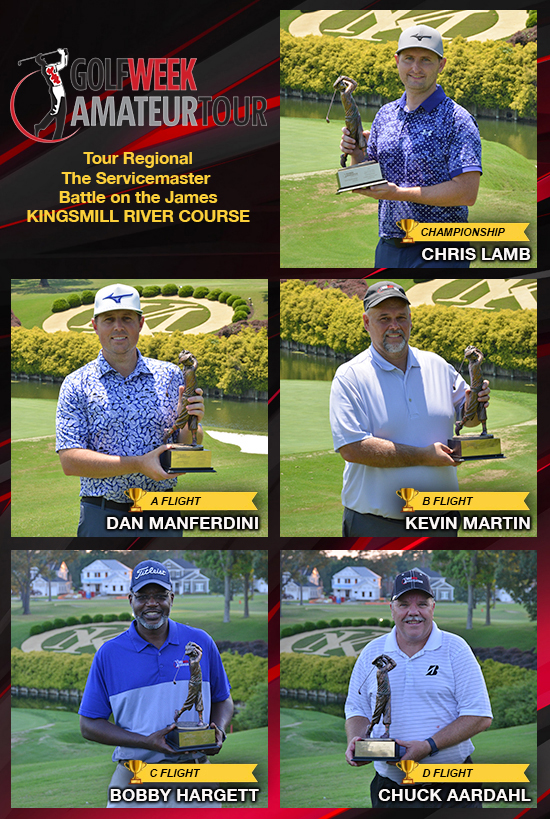 Championship Flight - Chris Lamb from Washington, DC battled Spencer Mims of Tidewater, VA the entire weekend. Lamb finished with a two shot victory 74-73 147. Mims finished second at 74-75--149. JP Perry (Tidewater) 76-78, John Masotti (Eastern NC) 79-75 and Dennis Nelson (Tidewater) 79-75 all finished in a three way tie for third at 154.
A Flight- Tidewater player Dan Manferdini came from 1 shot back to get the win by 1 shot (77-76--153). Second Place went to Donnie Pritt of Eastern NC (76-78--154). Brandon Adamski of Washington DC took third place (83-73--156) and rounding out the Top-5 in a two-way tie for fourth place was Jason Hall of Tidewater (76-81—157) and Ryan Staples of Tidewater (82-75—157).
B Flight – Kevin Martin from the Tidewater tour was at the top almost the entire weekend (78-76--154). Second place went to Zane Sanford from Tidewater (80-79--159). Eastern NC's Heidi Rittenhouse was third (79-81--160) followed by a two-way tie for fourth place, John Lederer, Tidewater (81-81--162) and Bill Glab, Tidewater (77-85—162).
C Flight- The battle for the C flight went down to the back nine where six players looked to win. Tidewater player, Bobby Hargett took the Regional with (82-85--167). Followed by Ben Westmoreland of Tidewater (82-86—168) who took second place. Taking third place was Brian Harden, Tidewater (83-87--170), fourth place was Nick Schapowal, Tidewater (83-89--172) and fifth place was Mario Jones, Tidewater (90-83--173).
D Flight- Tidewater player Chuck Aardahl came from 8 shots back to claim the win with 93-87--180 in a Sudden Death Two Hole Playoff. Day 1 leader, Brandon Manning from Tidewater took second at 85-95--180. Third place went to Chris Spanka of Tidewater (88-94--182), fourth place to Trace Perry from Nashville TN (94-89--183) and fifth place to Pedro Quintero El Paso TX (92-92--184).

The Memorial Day Open at Whistling Straits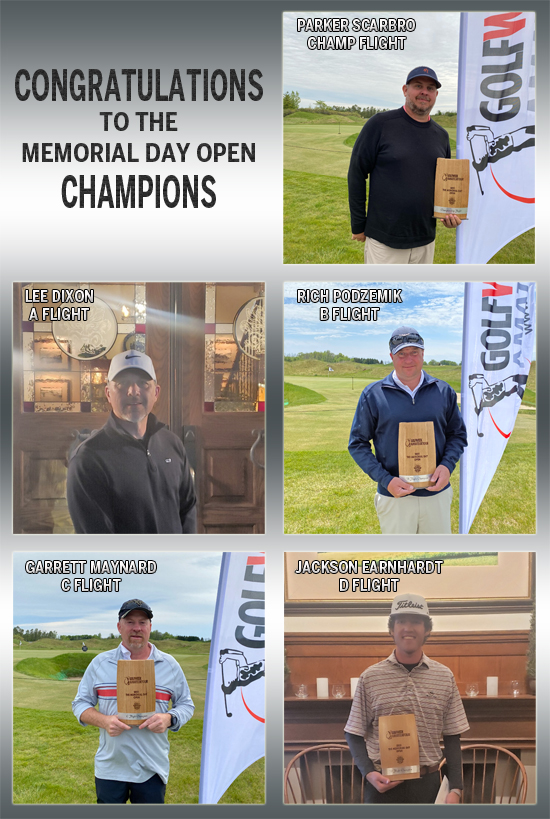 More than 200 members from 34 Golfweek Amateur Tours found their way to Wisconsin to participate in The Memorial Day Open. Players took to Whistling Straight's Meadow Valleys and The Straits courses Saturday and Sunday, respectively. On Sunday, players got the PGA Championship and Ryder Cup feel as they walked The Strait and had caddies.
Parker Scarbro (Nashville) took the top spot in the Championship Flight with a card of 154. He shot a 3-over-par (75) Saturday and a 79 on Sunday to finish 7 strokes ahead of the next two players. John Gollwitzer (Chicago, 82-79) and Gerry Pascale (Hilton Head, 81-80) tied for second with two-day scores of 161. Two other players also tied, but this was for fourth with scores of 163: Jack Miller (Las Vegas, 81-82) and Jamie Manning (Hilton Head, 80-83).
Competition was tight in the A Flight between Charleston's Lee Dixon (79-80) and Denny Schwarze (80-81) from Michigan West. Dixon held a one-stroke lead after Saturday's round. That advantage grew to five at the event's 27-hole mark. Schwarze cut Dixon's advantage to two with a birdie on Sunday's hole No. 10 and then the two were tied up at 155 a piece entering the event's final hole thanks to back-to-back pars for Schwarze on the 16th and 17th. Dixon came out on top with a bogey, edging Schwarze by one stroke, 160-161. Eric Stevenson (Chicago) didn't finish too far behind as he shot a two-day score of 162 (78-84), good for third. Tied for fourth with two-day totals of 163 were DC Metro's Jimmy Bryant (82-81), Eastern NC's Lucas Hardee (81-82) and St. Louis' David Watson (77-86). James Earnhardt from Upstate also finished in the money in seventh (79-86).
Rich Podzimek, from the Chicago Tour, was the B Flight winner with a score of 156 (76-80) and a commanding lead over the rest of the field. Jerry Homishak, Arkansas Tour Director, placed second (80-85) while two players tied for third with final scores of 170: LR Gardner (Arkansas) and Glenn Whalen (Chicago). Matthew Foreman (Tidewater) and Michael Ericksen (Chicago) both carded a 173, tying for fifth. Rounding out the payouts were Tim Fyfe (Chicago) and Jon Wendt (Indianapolis) with two-day scores of 174.
Garrett Maynard, from the Columbus Tour, trailed DC Metro Tour member Milton Tyrrell by five strokes heading into Sunday's round. At the C Flight's 27-hole mark, that deficit grew to six. But Maynard battled on the back nine, cutting Tyrrell's advantage to four on Sunday's 10th and to two after a birdie and par on holes 12 and 13, respectively. Maynard took the one-stroke lead with a par on 14, but Tyrrell knotted up the score with a bogey on hole No. 15. The two finished out the round tied at 173, leading to a playoff which was won by Maynard thanks to a 25-foot putt. Matt Lyons (Milwaukee) rounded out the top-3 with a two-day score of 175 and finished two strokes ahead of James Fifer (Chicago). Paul Golden (Arkansas), Cory Johnson (Tidewater) and Mark Witmer (Chicago) were all tied at 179 and edged out DC Metro's James Briggs in 8th place by one stroke.
The D Flight victor was Jackson Earnhardt from Upstate. He shot a 182 (92-90) during the event, not bad for his first amateur tournament. Mike Jared (Arkansas) placed second with a 186 (97-89) while Dan Rice (Michigan East) took third (193-97-96). Bill Papatheofanis (Chicago) finished a stroke behind Rice, placing fourth (99-95), while two players tied for fifth with two-day scores of 196: Dimitrios Maravelias (Chicago) and Myrtle Beach's Shelley Martin.

2021 Florida Regional At Innisbrook Resort
Championship Flight- John Fryman from Columbus, OH battled Tony Bostic of Washington DC the whole weekend. Fryman finished with a one shot victory 76-75 151. Bostic finished second at 75-77--152. John O'Quinn (Orlando) was third at 82-72--154 and fourth went to Jeff Moritz with 82-74--156.
A Flight- Orlando player Robin Gomez came from 2 shots back to get the win by 6 shots (83-78--161). Second Place went to Sylvester Warren of Tampa (85-82--167). Michael Smith of Tampa won the score card playoff (85-83--168) for third over Marty Clemens from the Indianapolis Tour.
B Flight- The battle for the B flight went down to the last hole. Nashville player, Jerry Drewry needed to get up and down from the bunker on the last hole for the win. A 12 foot par putt went down to seal the victory 88-79--167. Second went to Steve Riley from Cleveland/Akron Tour (84-84--168). Tampa Player, Mason Coker took third with a nice final round 89-80--169. Matt Jacobs from Indiana/ W Ky was fourth.
C Flight- Clare De Beof from the Tampa tour led the entire weekend (89-91--180). Second place went to Steve Downey from Orlando (91-91--182). Orlando's George Ricardo was third (95-89--)184 and fourth went to Scott Grossarth from Cincinnati (92-9--184).
D Flight- Tampa player Hayden Smith came from 2 shots back to claim the win with 97-95--192. Day 1 leader, Dan Wickell from Orlando took second at 95-99--194. Third place went to Ken Ross of Tampa (104-92--196) and fourth place to DJ McClure also Tampa (101-96--197).

2021 Four Ball Championship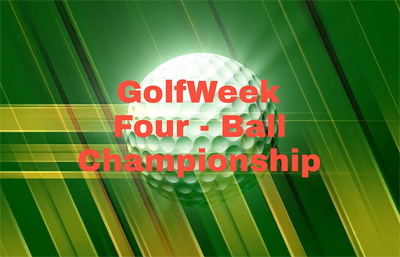 Click to view video of winners
Over 40 teams competed at Barefoot Resort in this year's Golfweek Four-Ball Championships!
Myrtle Beach, SC - This year's 36-hole tournament was held on the Love Course and the Dye Club.  We had teams from all over the country compete in the Golfweek Division and the Senior Division.
In the Golfweek Champ Flight, Jeff Wong & Jamie Manning started the day one shot back after firing a six-under-par round on Saturday at the Love Course.  On Sunday at the Dye Club, Wong & Manning shot 70 for a two-day total of 136, which was good enough for a one-shot victory.  Jim Aughtry & Joe Jaspers, day one leaders, posted rounds of 65-72-137 which put them alone in second place.  Jeff Maier & John Fryman placed third with 69-72-141 and Joe Bryant & Chris Legare finished fourth at 73-76-149.
In the Golfweek "A" Flight, Jim Simmons & Rob Jordan won with rounds of 71-77-148.  Andy Ricci & Travis Wireman finished second 76-76-152 followed by Lyle Joyner & Sean Redman and Brad Sasser & Jon Langer both at 154 totals.
In the Golfweek "B" Flight, Hunter Potalivo & Dustin Potalivo grabbed the victory with rounds of 76-82-156. Cliff Morgan & Nolan Elenz were second with 81-79-160, followed by Brian Day & Cory Patalivo with 76-86-162.
In the Senior "Champ" Flight, Larry Griffin Jr. & Mark Hodges won by two shots with 71-66-137.  Dave Boaz & Jerry Sennett finished second with 70-69-139 followed by Mike Gentry & Dennis McCormac with 71-72-143.
In the Senior "A" Flight, Johnny Taylor & Todd Vick won by just one shot with rounds of 72-70-142.  Tom Seifert & Bill Murphy were second with 71-72-143 followed by David Baca & Tim Robinson with 69-76-145.
In the Senior "B" Flight, Bryant Turner & Ray Clark won by two shots with 72-83-155.  David Ohrn & Todd Vance finished in second with 78-79-157 followed by Dana Valcourt & Sam Carpenter with 83-80-163.

2021 IceBreaker, Hilton Head, SC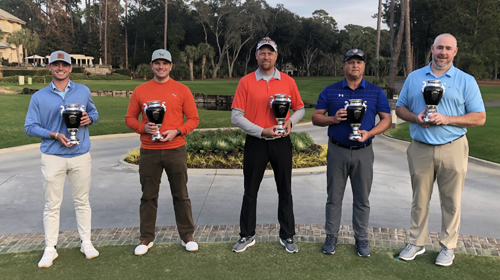 Caleb Loudin, Tom Swartz, Radek Klauda, Larry Penfield, and Matt Roach all win at the IceBreaker Regional hosted at Robert Trent Jones & Harbour Town Golf Links!
Hilton Head Island, SC – This year's IceBreaker Regional was played in Palmetto Dunes Plantation (Robert Trent Jones) and Sea Pines Resort (Harbour Town Golf Links). In the 18th year, this regional tournament was the largest field ever with 128 players from over 24 different tour cities across the country. This marks the kick off to the 27th anniversary of the Golfweek Amateur Tour!
In the Championship Flight, Caleb Loudin from the Charleston Tour, led wire to wire for the victory with 73-77-150. Jamie Manning, from the Hilton Head/Savannah Tour, played well and finished in solo second with 75-78-153. Jim Aughtry (Charlotte) and Wes Strader (Eastern NC) finished tied for third at two-day totals of 150.  James Emerson (Hilton Head/Savannah) rounded out the top five scores at 155.
In the A Flight, Tom Swartz of the Charlotte Tour, won by three shots with rounds of 82-83-165. Lee Dixon (Charleston), Sean Kenneck (Charleston) and Travis Wireman (Charlotte) all finished tied in second place with two-day totals of 168. Marc Janse Van Rensburg (Charlotte) finished in solo fifth place at 169.
In the B Flight, Radek Klauda (Hilton Head/Savannah) won by four shots for the victory at 81-80-161. Terry Dunn (Atlanta) finished second at 165 followed by Daniel Maxwell (Charlotte) third at 166. Randy Ward (Michigan West) and Justin Gainey (Myrtle Beach/Wilmington) both tied fourth at 172.
In the C Flight, Larry Penfield (Charleston) won with a 172 two-day total for the victory. Ray Clark (Hilton Head/Savannah) was second at 179 followed by Jerry Lorenz (Jacksonville) in third place with 182. Ronnie Henderson (Jacksonville) finished in fourth place at 184 followed by Scott Allen (Dallas Fort Worth) who finished fifth with 187.
In the D Flight, Matt Roach (Columbia) won by one shot with 195. David Schmidt (Augusta), Dan Pierce (Tidewater) and John Davis (Myrtle Beach/Wilmington) all tied in second place with two-day totals of 196. Jack Moose (Central Carolina), Brandon Manning (Tidewater) and Bob Lloyd (Augusta) all tied fifth place with 198.
The Golfweek Amateur Tour plays in over 49 areas across the country and host single and two day tournaments. To get your tour card simply go to Join the Tour and be a part of a great nationwide tour. A Senior Tour is also available to join for players 50 years of age and older at www.senioramateurgolftour.net




HILTON HEAD ISLAND, S.C. – This year's tournament marked the 26th anniversary of the Golfweek Amateur Tour National Championship and it drew the largest field for the Tour Championship in its history. In all, a record 975 players competed this year.
In the Championship Flight, Scott Roberts won his first Tour Championship by four shots over Joe Jaspers. Roberts opened the tournament Friday at Hilton Head National with a one-over-par round of 72.  Saturday at Arthur Hills in Palmetto he posted a two-under-par round of 70 to take a one shot over Joe Jaspers going into Sunday's final round.  On Sunday, Roberts started out hot with a front nine 33 and never looked back as he closed with a one-under-par round of 70 for the victory.
Scott Roberts, Charlotte (72-70-70—212)
Joe Jaspers, Charlotte (73-71-73—216)
Jeff Wong, Hilton Head-Savannah (74-72-71—217)
Jacob Hamner, Louisiana South (73-72-72—217)
Jake Garey, Hilton Head-Savannah (74-76-79—219)
In the A Flight, Alexander Hoffman started with a first round 79 and improved every day to earn a 4-shot win over Michael Carey and Ryan Scott.
Alexander Hoffman, Arkansas (79-74-72—225)
Michael Carey, Louisiana South (79-73-77—229)
Ryan Scott, Eastern, NC (73-79-77—229)
Brent Densmore, Hilton Head-Savannah (76-79-76—231)
Jason Hall, Tidewater, VA (74-78-79—231)
In the B Flight, Paxton Lane, Elliot Capers and Albert Delamarter all remained tied after three rounds at 246 totals.  The sudden-death playoff went two holes with Paxton Lane winning and becoming the youngest ever Golfweek Amateur Tour Champion at just 13 years old.
Paxton Lane, Arkansas (83-83-80—246)
Elliot Capers, Tampa, FL (90-79-77—246)
Albert Delamarter, St. Louis, MO (78-84-84—246)
Beth Hunt, Myrtle Beach-Wilmington (83-81-83—247)
Keith Greenfield, Arkansas (88-80-81—249)
In the C Flight, Scott Allen won by two shots over Robert Luter of Arkansas.
Scott Allen, Dallas-Fort Worth, TX (81-86-79—246)
Robert Luter, Arkansas (81-84-83—248)
Richard Scruggs, Mississippi Gulf Coast (86-90-81—257)
Joe Smillie, Tampa, FL (92-87-79-258)
Jason Brown, Jacksonville, FL (87-87-84—258)
In D Flight, Anthony Prano won by just one shot on the final hole for the victory over Charles Benintende with a three-day total of 271.
Anthony Prano, Orlando, FL (87-91-93—271)
Charles Benintende, Indiana-Western KY (88-86-98—272)
Wesley Nichols, Columbia, SC (90-96-93—279)
Nancy Lindsay, Los Angeles, CA (94-87-98—279)
Raymond Medina, Houston, TX (93-90-97—280)
The Charlotte, NC Tour took the Team Cup with a three-day total of 2488 stokes. The Louisiana, South Tour took second with 2496 shots followed by last year's champions, the Hilton Head-Savannah Tour (2511). The Eastern NC Tour finished fourth at 2516 followed by Arkansas, Orlando, FL and Central Carolina all tied for fifth with a three-day total of 2522.