2022 Southern Icebreaker, JAN 8-9, 2022
Palmetto Dunes and Sea Pines, Hilton Head, SC
Jeff Wong, Travis Wireman, Scott Ammons, Dan Pierce, and Brandon Manning all win at the Southern IceBreaker Regional hosted at Robert Trent Jones & Harbour Town Golf Links!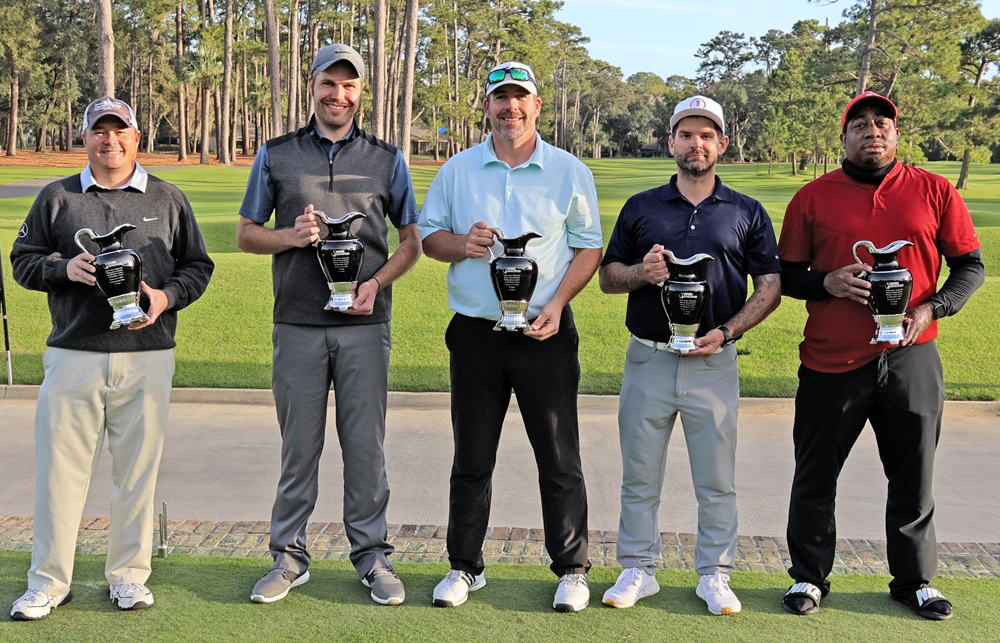 Hilton Head Island, SC – Palmetto Dunes (Robert Trent Jones) and Sea Pines Resort (Harbour Town Golf Links) provided the backdrop for this year's IceBreaker. The 128-person tournament set a record for the largest field in the 19-year history of the season opening regional tournament. With over 26 different local tours from across the country, it certainly was a fantastic way to kick off the 28th anniversary of the Golfweek Amateur Tour!
In the Championship Flight, Jeff Wong from the Hilton Head/Savannah Tour led wire to wire for the victory with 77-73-150. Wong started the day with a two-shot lead over four other players. Joe Jaspers (Charlotte) tied up Wong on hole number 13 and the two made all pars on 14 thru 17. Wong and Jaspers both hit inside ten feet on 18 but Wong's birdie putt cinched the win in the year's first Regional Series Tournament. Jaspers finished one shot back with 79-72-151, followed by Chris Lamb (Tidewater) at 157. Steve Evans from the Hilton Head/Savannah Tour played well and finished tied for fourth with Derrick Cantu (Louisiana North) both had two-day totals of 159.
In the A Flight, Travis Wireman of the Charlotte Tour won by nine shots with rounds of 79-81-160. Scott Ide (Charlotte) and Chris Lombardozzi (Upstate) finished tied for second place with two-day totals of 169. Donnie Hasen (Charlotte) finished solo in fourth at 171 followed by Lucas Hardee (Eastern NC) and Mike Griggs (Columbia) tied at 172.
In the B Flight, Scott Ammons (Hilton Head/Savannah) won by one shot for the victory at 80-86-166. John Robinson (Hilton Head/Savannah) finished second at 167 followed by Boyd Laughlin (Hilton Head/Savannah) and Matthew Foreman (Tidewater) both tied at 168. Paul Sherry (Hilton Head/Savannah) rounded out the top five at 170.
In the C Flight, Dan Pierce (Tidewater) carded a 179 two-day total for the victory. Alex Franklin (Upstate) was second at 181 followed by Barry McDonald (Charlotte) in third place with 184. Mike Sutton (Myrtle Beach) finished in fourth place at 185 followed by Samir Patel (Charlotte) in fifth with 186.
In the D Flight, Brandon Manning (Dallas/Fort Worth) won by eight shots with 183. Robert Dreelin (Tidewater) and David Schmidt (Augusta) finished tied for second at 191. Steve Start (Orlando) was solo fourth at 197 followed by Mitch Green (Upstate) with 200.