2022 WESTERN Icebreaker, JAN 15-16, 2022
Paiute Resort Golf Resort, Las Vegas, NV
RJ Foltz, Matthew Bankston, Tracy Broussard, CJ Toomer, and Hector Lara all win at the Western States IceBreaker Regional hosted at Paiute Resort the Snow and Sun courses!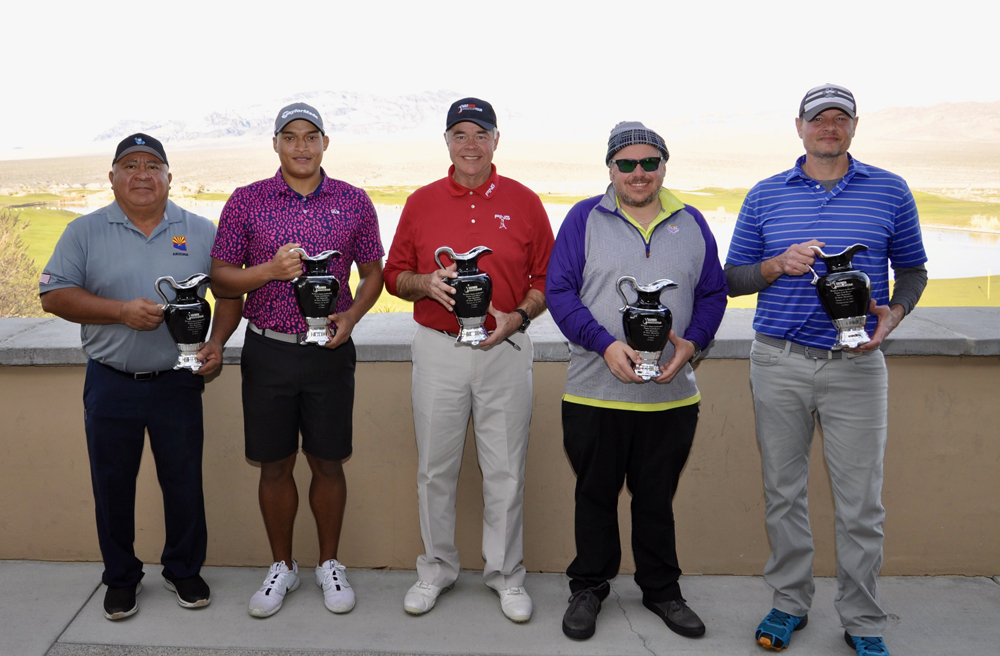 Las Vegas, NV – Paiute Resort provided the backdrop for this year's Western States IceBreaker. The 109-person tournament saw all flights come down to the last hole to determine the winners. With over 30 different local tours from across the country, it certainly was a fantastic way to kick off the 28th anniversary of the Golfweek Amateur Tour!
In the Championship Flight, RJ Foltz from the Kentucky Tour came from two shots back to capture the regional win with 84-78-162. Chris Legare from the Hilton Head/Savannah Tour held the day one lead and kept it until the final few holes on the back nine. Legare finished one shot back with 82-81-163, followed by Anthony Phillips (Hilton Head/Savannah) at 168. Jeremy Schneider from the Chicago Tour finished fourth and Chris Baca (Denver) was fifth.
In the A Flight, Mathew Bankston of the Louisiana South Tour won on the final hole by two shots with rounds of 80-82-162. Joshua Hafford (Louisiana South) and Elijah Richardson (California) finished tied for second place with two-day totals of 164. Ray Hernandez (California) finished solo in fourth at 166 followed by Jason Lyons (Louisiana North) was fifth with 167.
In the B Flight, Tracy Broussard (Louisiana South) won by one shot for the victory at 83-88-171. Eric Abeyta (Arizona) finished second at 172 followed by Nick Liput (Denver) at 173. Andrew Godbold (Chicago) finished in solo fourth with 175 followed by Tag Griffin (Louisiana North) at 176.
In the C Flight, CJ Toomer (Arizona) carded a 172 two-day total for the victory. Thomas Purvis (Dallas Fort Worth) was second at 174 followed by Nick Filantres (Arizona) in third place with 176. Albert Adams (Louisiana South) and Walter Nash (Arizona) finished tied fourth place at 180.
In the D Flight, Hector Lara (Arizona) wins by only one shot on the final hole with 182. Daniel Cash (Upstate) finished one back at 183 and Jason Tubb (California) finished third at 184. Chris Rogers (Dallas Fort Worth) was solo fourth at 186 followed by Steve Lucas (Arizona) with 187.